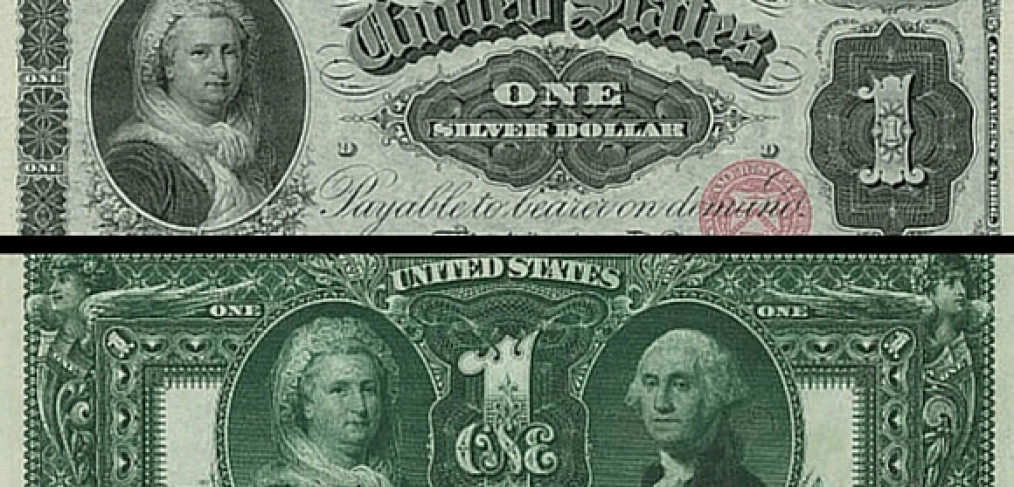 The one-dollar note that we know today has gone through many incarnations—two of which included the only portrait of a woman ever found on U.S. paper currency. The history of U.S. currency is incomplete without Martha Washington. Legend has it that her own silverware was melted down to create the first U.S. coins. So it's only fitting that some of the first U.S. bills ever printed featured the original first lady.
The first-ever, legal tender one-dollar banknote was printed in 1862. It featured Salmon Chase, Lincoln's secretary of the treasury. He was replaced on the one-dollar note 18 years later with a portrait of George Washington. Though revised many times over many years the Washington dollar bill endured.
Six years after the George Washington dollar debuted, the Martha Washington one-dollar silver certificate was issued. This was the first time a female political figure had ever been used on U.S. currency. Ten years later, both George and Martha were featured on a one-dollar silver certificate as part of the Educational Currency Series. This marked the last time a woman ever appeared on U.S. paper currency.
When most people think of the one-dollar bill, they think of George Washington. But Martha's portrait helped pave the way for more women on currency, like the Susan B. Anthony and Sacajawea dollar coins. Recently, Treasury Secretary Jack Lew announced plans to redesign the $10 bill, replacing Alexander Hamilton with a woman. The redesign is supposed to be done by 2020 to coincide with the 100th anniversary of the 19th Amendment. It would also be the first time in more than 100 years that a woman appeared on a U.S. bill.
Did you like this post? Check out "What You Could Buy with an Ounce of Gold in 1950" and our other great articles.
Main Street Coin specializes in rare coins and currency. We are also gold, silver, diamonds, and jewelry buyers. Visit us first for a free evaluation. We are located in Fairfield, Hyde Park, Milford, and Florence.