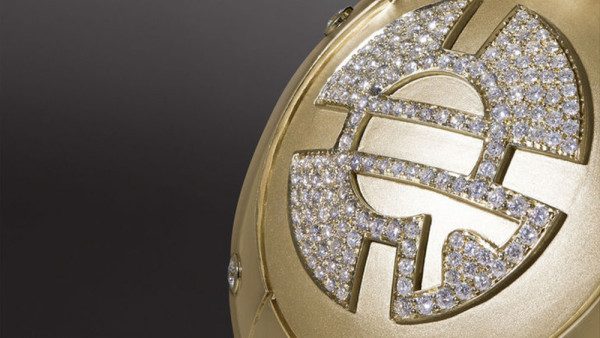 Have you noticed? A little story about something that happened in a galaxy far, far away is taking over pop culture.
Star Wars fever is back with the upcoming December 17 release of The Force Awakens, and we're about to see branded merchandise everywhere. It's all exciting, but one piece of merch is obviously king of the heap.
Disney has released a one-of-a-kind spin on the flick's cutest droid, BB-8, in 18-carat gold and diamonds. The resulting piece is probably the world's shiniest robot and was appraised at $135,000.
The bejeweled droid is just 4.25″ high, weighs a little over one and a half pounds, and is made of 18-carat yellow gold and 18 carats of diamonds. (That's an estimated 860 stones.)
It will be auctioned off later this month, after being displayed at the Force 4 Fashion exhibit in New York. Proceeds from the auction will go to St. Jude Children's Research Hospital.
Shine on, you crazy diamond-studded robot. Shine on.